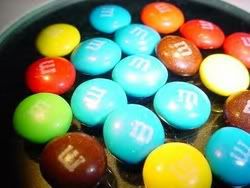 Hubby placed his glass under the icemaker for his soda after a hot long day at work. M&M ice!!! Where did that come from? We've had a houseful off and on during the Summer, especially for the Fourth. Apparently someone put a small bag of M&M's on top of the ice in the freezer to cool it before munching on them and forgot! So the bag worked its way down to the bottom of the dispenser and the individual M&M's found their way out today. The glass looked kinda neat with the crushed M&M's but hubby wasn't going for it. Tossed the ice and washed out the container and started over. No one is confessing ownership!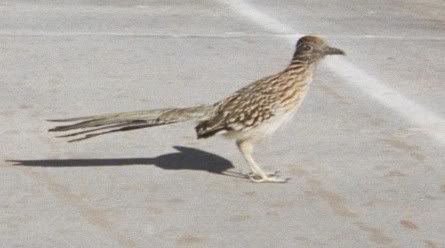 We have roadrunners here in the Ozarks too. In fact just had one run across the road in front of me and up the driveway of the house I was passing. No coyote tho'.
I'm off to annual Summer Conference for most of the week. sigh Even though I am always glad I went, I hate that it signifies the end of Summer... my favorite time of year. School starts in the middle of August, interrupting all my fun. But alas, I'm the teacher so I guess I have to go!!!
Weekend Blessings!
UPDATE: T says it's hers!!!!!